Hughes Krupica's team has extensive experience acting for owners, with some work for operators including joint venture asset investment and finance restructuring.
We are able to identify industry specific issues in contractual documentation quickly, advise on a rational market practice and negotiate terms within commercial parameters. We also have Thai specific regulatory experience on branded residences and condominium-hotel structures.
Hospitality Management Agreements
Strongest Contractual Tools
These agreements are the strongest contractual tools of the hospitality trade. There is strong competition for the opportunity to review and comment on what are often represented by operators as 'standardised' agreements amongst lawyers and consultants seeking their fees and to demonstrate their knowledge in this specialist field.
Our firm has represented mostly owners on their negotiations with operators to brand hotels which are non-branded or to replace other operators, or for development of real estate into a hotel to be branded. We have represented owners with a healthy range of different operators and their advisers on the other side of the table.
Balance of Power, Control and Risk
There are some key elements in relation to reviewing commercially sensitive long-term contractual documents that are crucial to provide a framework for a successful decision regarding a prospective transaction:
Early legal input into Letters of Intent or Memorandums of Understanding, to avoid rigidity or future misunderstandings
Clear and pragmatic explanations to owners of the typical dynamics and market practices relating to the balance of power, control and risk in hotel asset management arrangements, so that standardized processes are not misinterpreted as unusual, but also so that negotiable terms are identified, and if appropriate, negotiated
A clean and efficient method of reviewing lengthy and often sophisticated agreements containing critical definitions relating to top and bottom lines in accounts including budgeting, expenses, payments and other computations which require baseline references
A method of balancing 'rounds of negotiation' with managing transactions costs including legal fees, but mitigating opportunistic exploitation and leverage through delays and prevarication
Overcome Challenges
Many professional operators have organized themselves and their teams into orderly units which are competent and efficient in handling the negotiation process, ensuring that input from the correct department heads is obtained quickly, and that approvals for changes to agreements are delivered during meetings to ensure optimal use of time and resource. Other operators have difficulties due to their workload, financial pressures, change of personnel or lack of familiarity with a region. Experienced advisers will work with their clients to identify and overcome these challenges.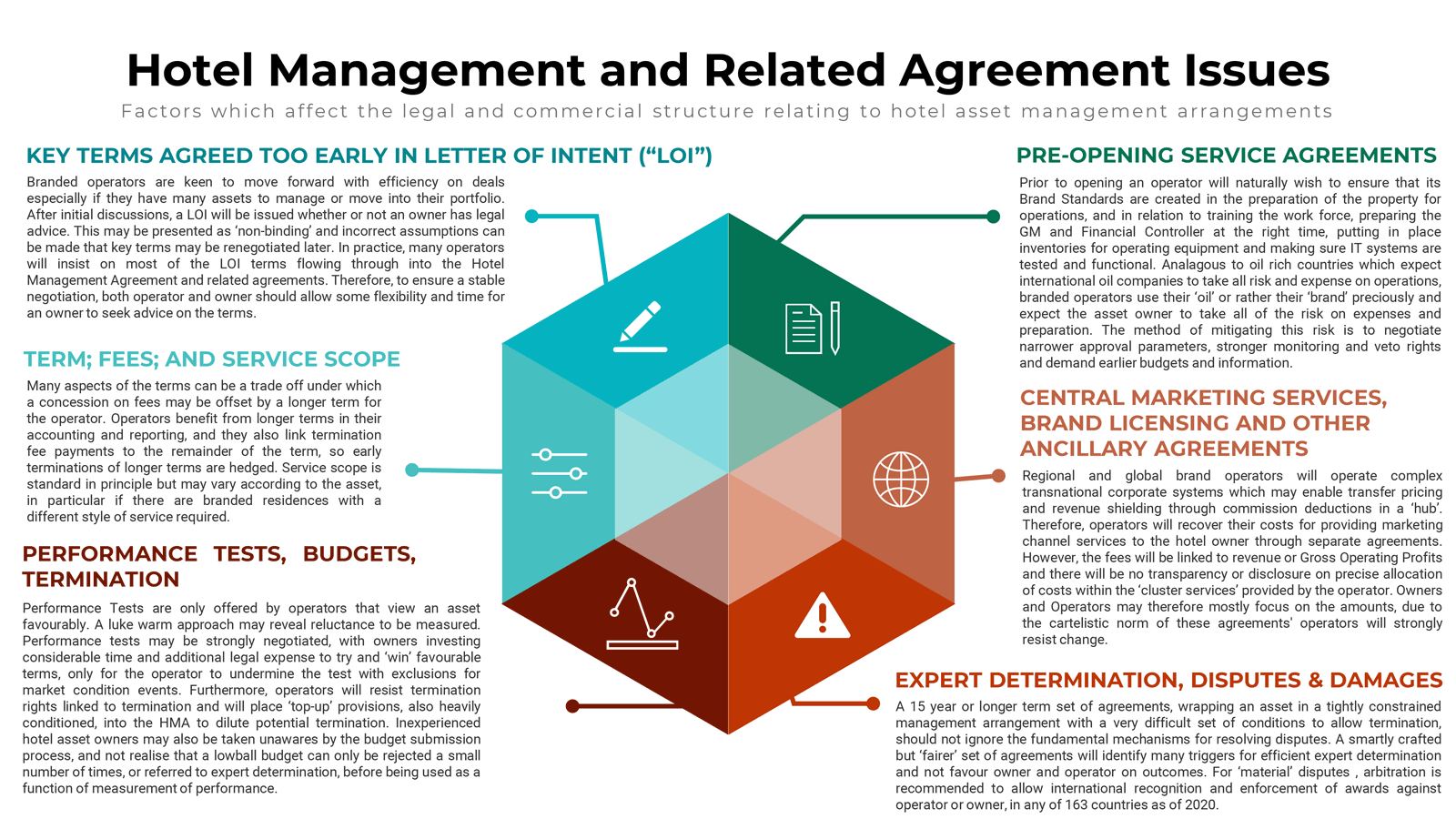 Commercial Needs Do Not Neatly Fit the Law
In the last 5 plus years, Hughes Krupica has increasingly advised clients on the structuring of mixed-use projects to incorporate branded hotels within residential, commercial and recreational led designs. In Thailand, the fusion of commercial needs does not always fit neatly with the law, which may not have been drafted with mixed use real estate activities in mind. On such basis, we are often called upon to structure corporate interplays, building permission structures, byelaws and usage rules and to work with the authorities on interpretational provisions of law which may or may not allow legitimate flexibility of process and application to accommodate a project.
Both the Legal Solution and the Prediction
Common issues we have analysed include the limits of law relating to hotel licensing, the use of rooftop areas, the interpretation of health and safety regulations in relation to costly designs of starecases, lifts and emergency exits, the interaction between commercial and residential areas in a condominium, and the impact of a design on the building permit application procedures. Whilst many law firms can offer legal opinions on such matters, we focus on ensuring we have both the legal solution and the prediction on the manner in which the relevant competent officials will apply the law and their internal regulations on processes critical to a project.
Hotel Investments, Acquisitions and Disposals
Accurate Assessments of the Value of Disclosed Risks
In addition to the norm of such a transaction, the hospitality segment of either an investment, acquisition or disposal will provide a specific shape which deal objectives and legal advice must take into account. The type and extent of due diligence into a hotel may require special emphasis on the liabilities on the largest expense and most valued assets of the business – the employees. Any threats to the operability of the hotel must be identified and the real estate itself must be checked for compliance. Acting for sellers the method and timing of disclosures, the limitations on representations and warranties, and accurate assessments of the value of disclosed risks which might require indemnities are crucial elements of the transaction. With syndicated investors, or operator/part-owner arrangements, the foundational challenges of a joint venture will apply, together with additional layers of analysis and assistance on cost control mechanisms, reporting obligations and monitoring rights, exclusions and limitations of liability, and efficient dispute resolution mechanisms.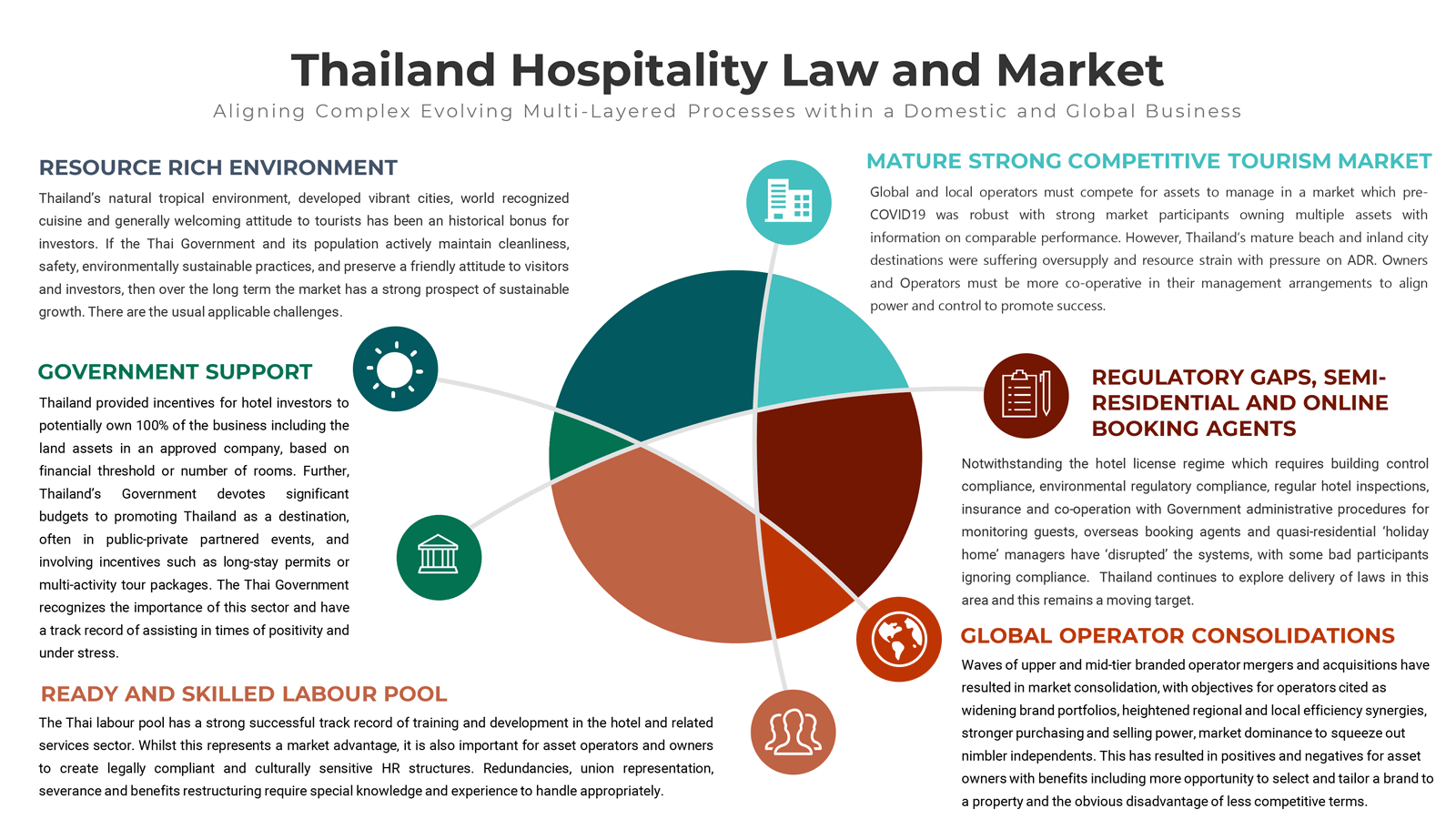 SMALL AGILE AND EFFICIENT
Small agile and efficient team dedicated to your hospitality legal matter.
COMPETITIVE FEE RATES
Competitive fee rates but maintaining international standards of professional high-quality work.
COMPLEX JOINT VENTURES AND MIXED USE STRUCTURE
Track record of assisting mostly owners, some operators, with their transactions, including complex joint ventures, refinancing, part-owner-operator structures, existing operator replacement negotiations and mixed-use structuring in multi-tiered regulatory frameworks.
MITIGATION TECHNIQUES
We understand how transactions can be derailed, or disputes can escalate, and will endeavor to assist clients with dispute avoidance and mitigation techniques.
Subscribe to our newsletter
Receive legal updates and firm information.
(generally no more then 2 emails per week)
* We don't share your personal info with anyone. Check out our Privacy Policy for more information.