Hughes Krupica will code the corporate constitution and contractual framework of your entities to adapt to domestic and international contexts of investment and corporate governance objectives
We assist corporate clients with their corporate governance structuring to assist ring fence investment liabilities to reflect capital and debt, and to establish modern efficient practices for management across multiple entities often in multiple jurisdictions including Thailand. We also wrap the constitutional framework with appropriate contracts which may include transfer pricing and other regulatory considerations.
Structuring the Newborn Entity
After selecting the most appropriate entity for a business activity, the entity must be formed in a manner which facilitates the timing for a planned investment activity, the correct capital structure to deal with debt and equity and regulatory requirements. We will liaise with you to ensure we have the appropriate level of detail and instructions to structure your entity in co-ordination with wider objectives. The extent to which international values will influence your operations will also be held in high regard.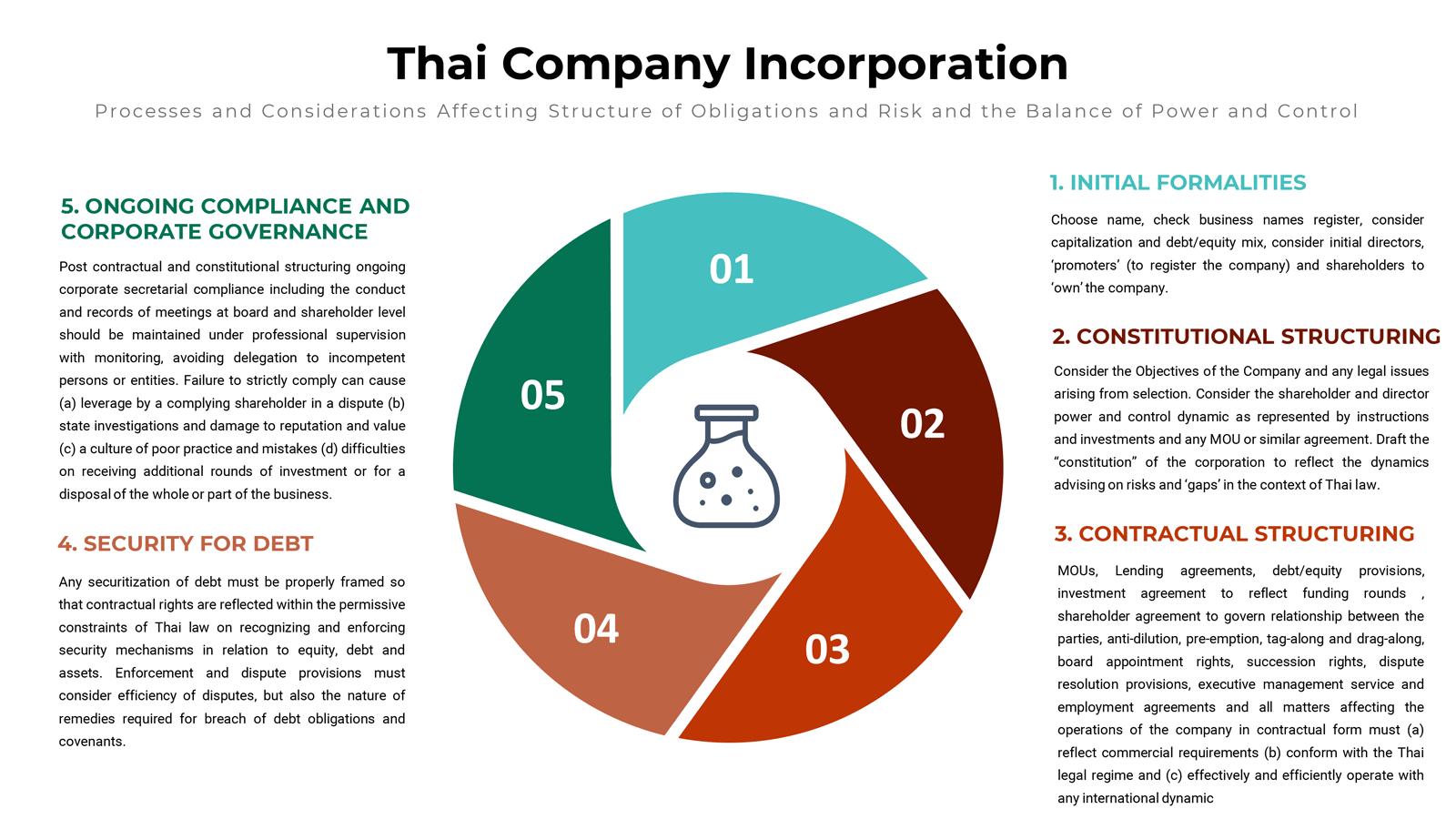 Investment Relationships Through Constitution and Contract
Sophisticated legal thought and advice will take into account the interplay of priorities and influence on the balance between power and control between owners of a business in the context of commercial budgeting for investment risk and reward. We will structure the constitution of your new entity, or reorganize an existing entity, so that it is aligned with an investment agreement, joint venture agreement and/or shareholders agreement and properly reflects and corresponds to injection of capital or debt for equity, legal interests of a hybrid of both.
Agile Corporate Governance
If you are planning to operate a small medium enterprise in isolation in Thailand or an enterprise which is part of a larger multi-jurisdictional organization, you will naturally wish for an efficient and responsive governance system to allow your management and directors to focus on profit and stakeholder issues as a priority over legal structuring and matters which can be assigned to lawyers to oversee with reporting to you and the board. On such basis, it is necessary to build a governance structure around the provisions of Thai law, to overcome some of the bureaucratic cumbersome issues that are part of the system, but avoiding falling into the short-cut non-compliant practices trap. We will assist based on our experience of operating our businesses for decades in Thailand and also servicing many successful operations, deliver a rational, logical and robust governance structure allowing interplay between international and domestic practice, constrained where applicable by local systems of law.
Joint-Ventures
To understand relationships we believe it is necessary to have experience of their beginnings, positive and negative fluctuations, and amicable or hostile end. It is also necessary to understand the nature of parties involved, their political, social, jurisdictional and economical influences and constraints, and to use sophisticated pluralistic geometrical legal though to organise these interconnected and cross-cutting issues into a suitable investment structure built to last for the projected term of an investment with appropriate exit, new investment and entry options to allow adaptation and survival. The mechanisms in a joint venture arrangement cannot simply be boilerplate pre-emption, anti-dilution, buy-out and breach provisions. Instead, the system of regulating a joint venture relationship must be prepared with the widest most open mind possible to ensure that there is a balance between principles, objectives, tasks, statutes, regulations and rules. Our team enjoys the challenge on assisting a joint venture with is arrangements – simple or complex, and relishes the prospect of trying to enhance the possible successful outcomes of an enterprise.
Ongoing Board Advice and Compliance
The Co-Founders of Hughes Krupica have, on select occasions, agreed to become external or internal representatives to boards of companies. This has been in conjunction with long- and shorter-term objectives of owners and management, and to date has resulted in synergies and positive outcomes for the relevant enterprises, mostly in the real estate sectors. Additionally, we advise regional in-house counsels of companies reporting directly to their boards and committees on legal risk and outcomes, supplemented by any legal opinions backed by sound legal research and practical application to relevant issues.
Corporate Dispute Resolution
As with all business dealings, relationships and behaviour can change, or a market can change exacting impact on companies and individuals which may result in conflict. In other situatons, there are simply bad market participants who impose unnecessary rent extraction on others, wasting energy and resources for their own prospective gain. Acute bad practice can manifest itself in fraud and other criminal acts. At one end of the spectrum, it may be wise to use a problem solving and circumspect risk mitigation approach. At the other end, it may be necessary to use deterrent-style litigation to ensure an organization is not infected with cultural change from good to bad behaviour and practice. In joint ventures, the balance of power and control can shift, as can the effort and energy applied to an investment over time, which can result in escalation of tension and dispute. During the management and strategic planning of these situations, lawyers must remain detached from the self-interest of legal fees relating to a dispute, and focus on the best solution for clients which may or may not be settlement, or future settlement. Relationships, business objectives and culture all have a part to play in analysis and planning for management of corporate disputes.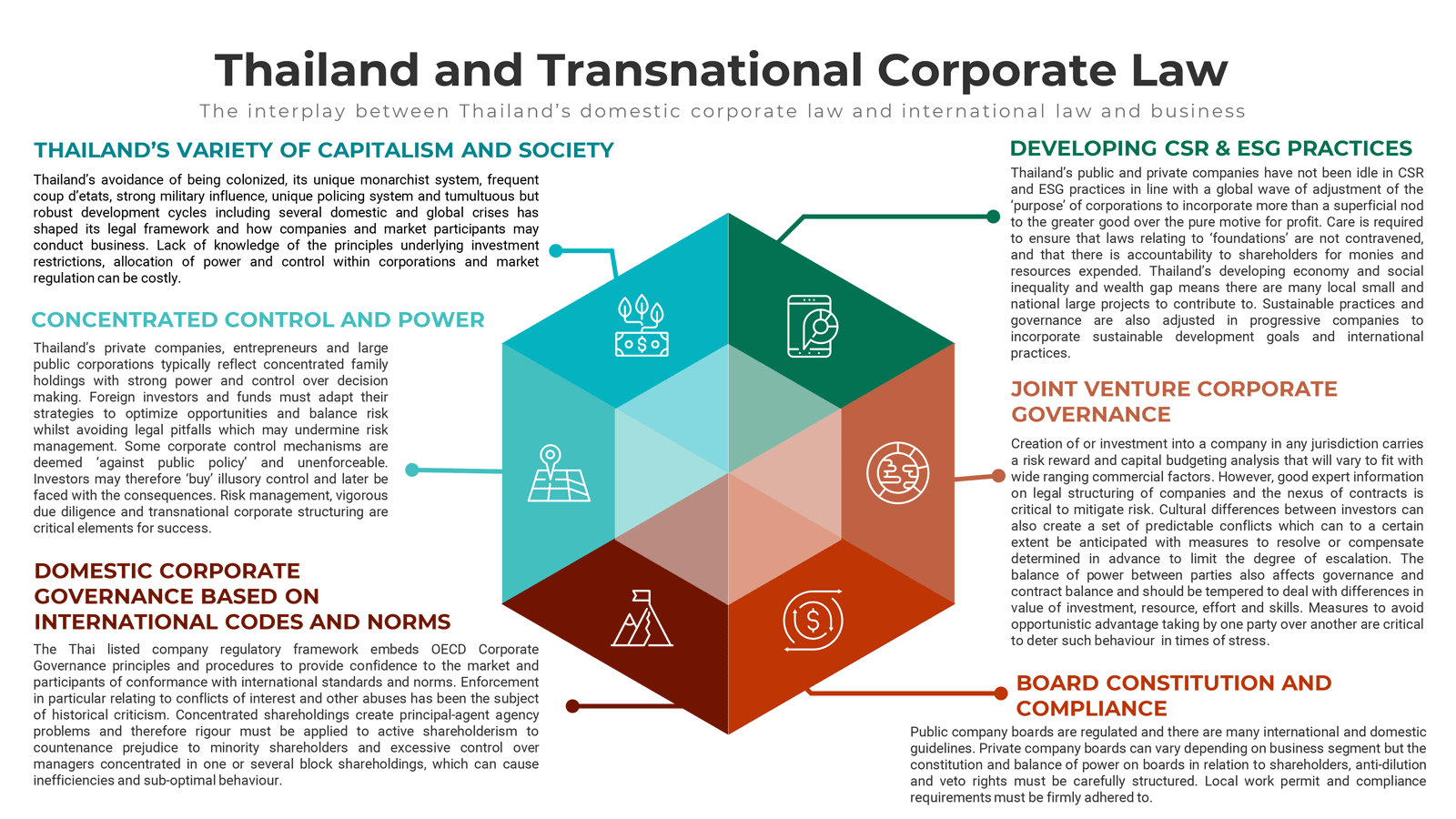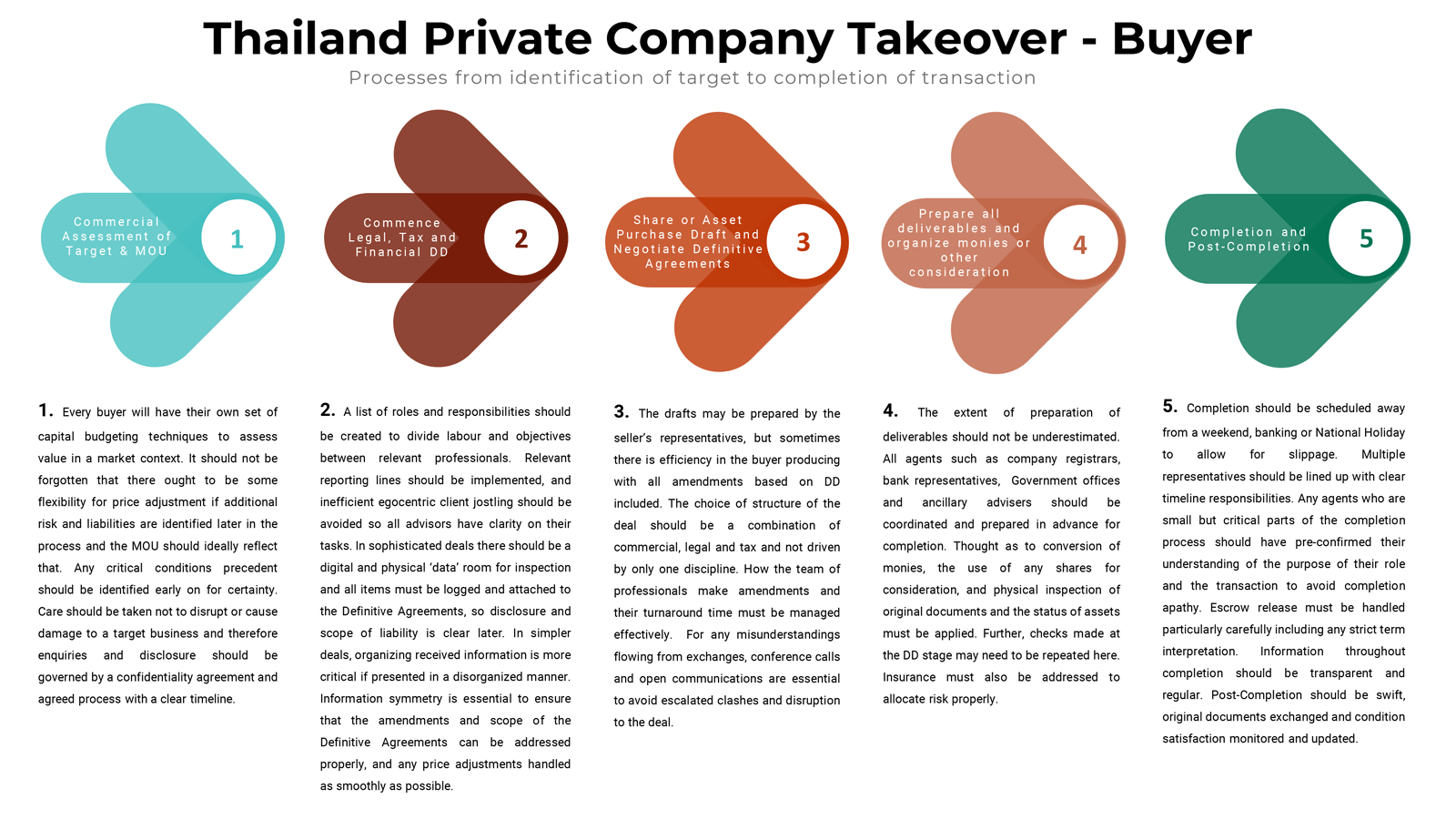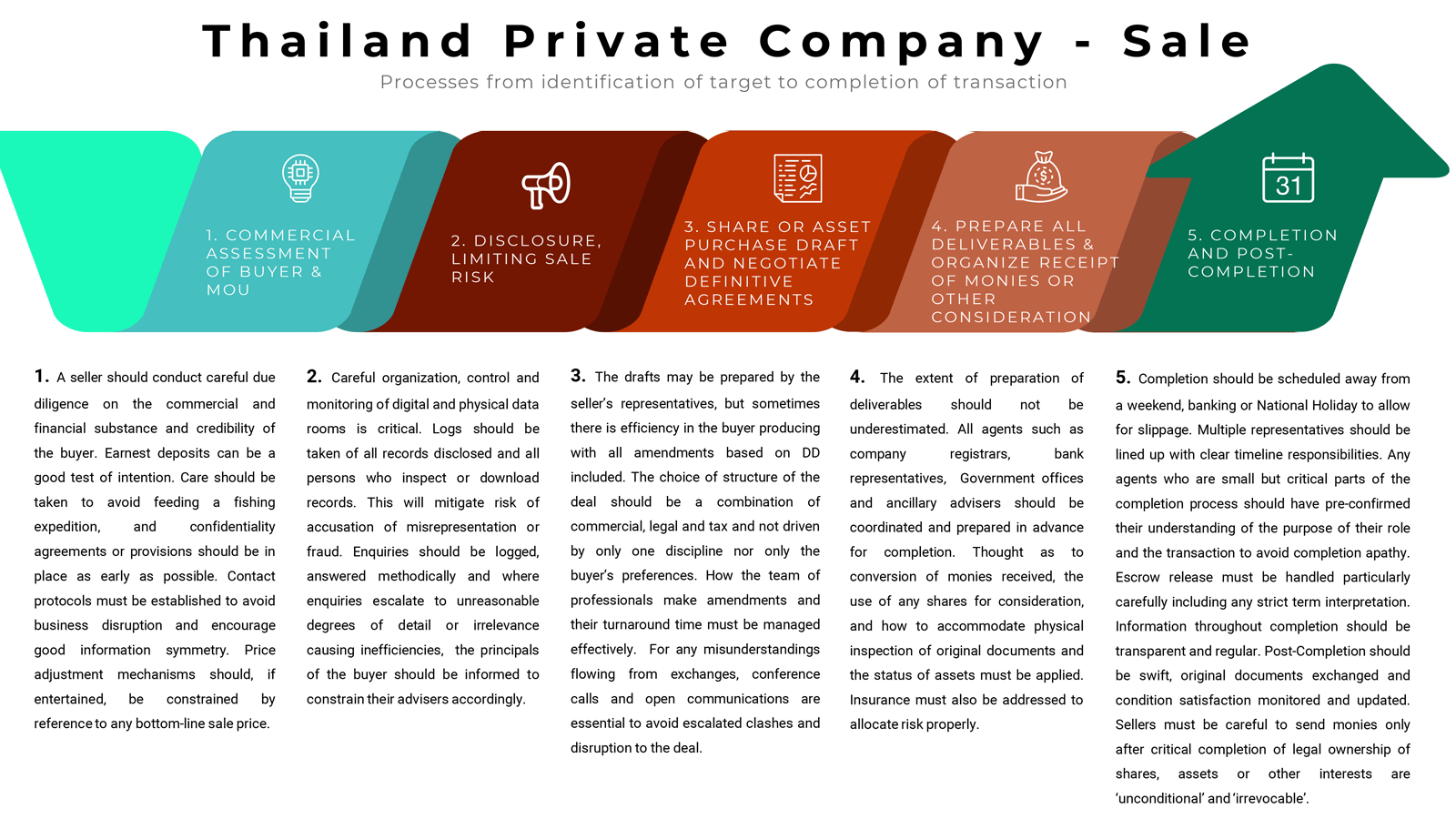 Corporate Transnational and Domestic Resources
Hughes Krupica applied modern and progressive agile governance strategies to your entity's birth and operation in Thailand, and is able to knit together the interplay between domestic, international systems and norms for efficiency and convenience.
Hughes Krupica will work closely with you on establishing the objectives and influences governing your corporate strategy, to ensure this is reflect in the constitution and contractual nexus framework linked to equity and debt and third party stakeholders. When should a decision be reserved by the Board? How do Reserved Matters fit into control and governance regulations in Thailand? What prevailing laws and dispute resolution systems can be used in relation to corporate investment?
WELL STRUCTURED INCORPORATIONS AND REORGANISATIONS
Internationally minded and able to apply principles into the sphere of incorporations in Thailand's legal system. Able to convert dysfunctional or stale structures to reflect new investments and strategies.
MODERN AGILE GOVERNANCE KNOWLEDGE
Applying multi-jurisdictional knowledge to design convenient and efficient agile governance structures to take into account mobility, flexibility and regulatory compliance. Able to incorporate international values into a domestic context through constitutional and contractual structuring.
SMART INTERLINKED CONTRACTUAL FRAMEWORK
Balancing established principles and documents with new business objectives and variations of capital structure and relationships. Using our knowledge of weaknesses and issues to optimize risk mitigation and provide commercial issue-solving processes.
STRONG COMMERCIAL AWARENESS OF OBJECTIVES
Applying the principle of 'there is no perfect contract' with commercial efficiency and critical issue strategic thinking. Ensuring that we are attuned to the relevant market in which the business and group operates and applying the correct modifications to reflect that in our services.
Corporate Transnational and Domestic Specialists
Subscribe to our newsletter
Receive legal updates and firm information.
(generally no more then 2 emails per week)
* We don't share your personal info with anyone. Check out our Privacy Policy for more information.