Hughes Krupica's team is ably equipped to assist with will formation, administration and execution of estates and disputes relating to estates.
Hughes Krupica has handled all aspects of estates from planning and reorganizing assets between Thai domestic and international jurisdictions through to the rigorous defense of assets including property and corporate interests from systematic planned fraud.
Unique Succession Laws
The Thai legal system, including the laws of succession, are as per many countries, unique to its particular societal, political and economic development which has shaped how assets may or may not be owned by Thais and foreigners. Trusts are an illegal construct in Thailand but the actions of a foreign trust may be recognized depending on the circumstances subject to strict criteria on evidence of legal capacity. Trusts should not be constructed within Thailand to settle an estate. Corporate structures, the separation of assets between family members and the division of assets in and outside of the Thai jurisdiction are common tools of estate planning.
Separation of Assets
For simple estates comprising one up to a few companies, some property interests, savings and some basic financial investments, cost-efficient advice is appropriate to allow organization and planning for peace of mind of the testator and the convenience of executors and beneficiaries. For more complex estates, analysis of issues and divisions of assets will be required. For spouses who wish to align their affairs we can also assist with mechanisms in the will such as mirror provisions, "waterfall" provisions for alternative executors and beneficiaries and overrides of default intestacy rules if permitted by law.
Registered Legal Interests
We will assist identify the relationship, if any, between your global estate and Thailand, and assist with the planning to implement robust, legal recognised, and where applicable – registered legal interests. We will also assist with the registration and digital and physical record storage arrangements.
Estate Litigation
Finally, we are also called upon to assist with protection of estates from fraudulent activities which may have taken place during the lifetime or post of the testator. This may include litigation to defend illegal acts in relation to shares and companies, the fraudulent production of false documentation to move assets illegally, and the subsequent illegal use of power to manipulate interests including disposal or leverage of assets.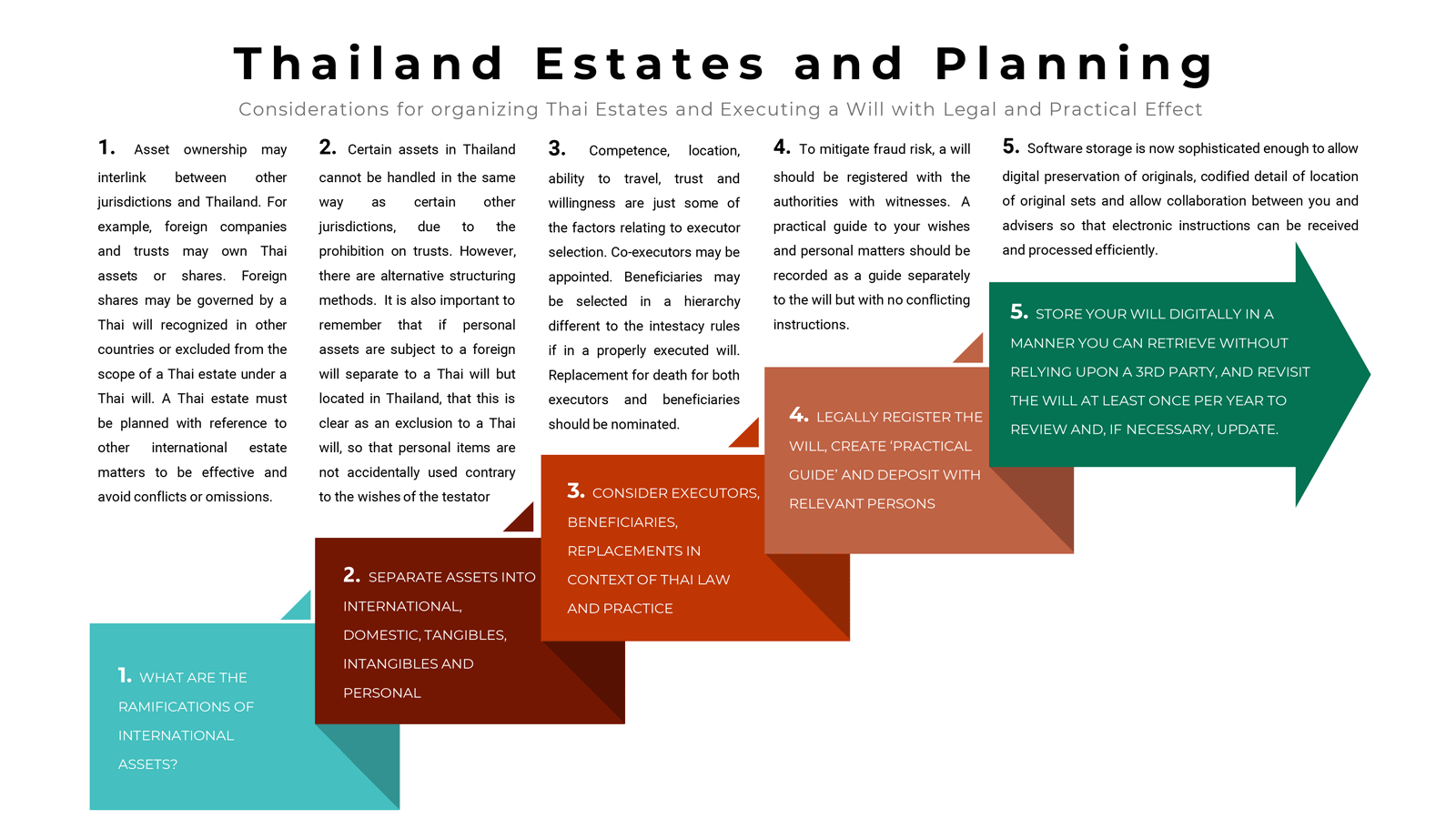 TAKE INTO ACCOUNT WIDER GLOBAL ASSETS
We will manage your Thai Estate planning by taking into account your wider global assets and appropriately deal with conflicts to ensure clear plans for succession and inheritance.
ADDITIONAL STEPS REQUIRED TO REGISTER YOUR WILL
We will apply effort and resource to the additional steps required to register your will and any related asset interests.
CONVENIENT STORAGE MODERN TECH TOOLS
We have modern tech tools to assist with efficient and convenient storage and notification of wishes to change provisions of wills.
Subscribe to our newsletter
Receive legal updates and firm information.
(generally no more then 2 emails per week)
* We don't share your personal info with anyone. Check out our Privacy Policy for more information.