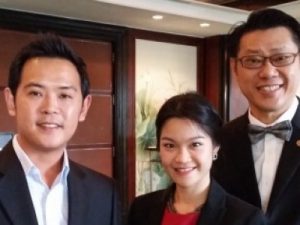 Courtesy of a personal invitation from Mr. Dar Wong, Investor and Investment Strategist of Dektos Investment Corp, and also the Vice-Chairman of the ASEAN China-Commerce Association, Khun Woraphong Leksakulchai – Managing Partner of Hughes Krupica, Bangkok, and Khun Kochakorn Suwannachuen, Paralegal, Hughes Krupica, attended the Bangkok Asean Economic Community Conference starting with the Gala Dinner on 7th April 2015.
This conference marks further progress in investment relations between China and Thailand in relation to further economic development and ties between the two countries. Attendees were given a first hand opportunity to hear of the developments of business and economic arrangements between Thailand and China and plans for how that will develop further through the ASEAN.
Dar Wong was instrumental in organising this event and his full biography appears below:
DAR Wong – Bio
Investment Strategist
Before Dektos, DAR worked as an institutional trader specializing in global derivatives and FX markets. His decades of experience span through Bank of America Futures Inc, Bankers Trust Futures Inc, Barclays ZW Futures Inc and Smith Barney Shearson Inc (Citigroup). Following his institutional tenures, Dar became a profitable Local trader on the floor of SIMEX.
Currently, DAR is a regular financial columnist for Borneo Post, 资汇报 and other financial magazines like 资本杂志, 东盟商界 etc. Also DAR is a panel speaker for the annual Global Rubber Conference and an associate member of the International Rubber Research and Development Board (IRRDB). In 2013, DAR is nominated as the Vice Chairman of ASEAN-China Commerce Association to establish bilateral ties with CA-Expo in China, Guangxi Province.